Navigating healthcare today
Healthcare in the United States has been an industry in turmoil for decades, long before the onslaught of COVID-19. In its most recent data, The Centers for Medicare & Medicaid Services (CMS) pinpointed healthcare expenditures at 17.7% of the GDP for 2019—$11,582 per person—up 4.6% from 2018. The Peter G. Peterson Foundation states per-capita U.S. healthcare spending is nearly three times the average of other developed countries.
But out-of-control costs aren't the only issue. Inefficient processes, poor communications, too much complicated technology to learn and maintain, and staff shortages are all major issues. In fact, clinician burnout has long been a rising concern, and COVID-19 has only escalated the problem. Medscape's 2020 U.S. and International Physicians' COVID-19 Experience Report found that 64% of U.S. physicians reported their burnout level has increased during the pandemic (up from 44% in their 2019 study).
In speaking with several healthcare leaders on the topic of clinician burnout, Healthcare IT News discussed the leading stressors facing physicians. Rasu Shrestha, MD, executive vice president and chief strategy and transformation officer at Atrium Health, emphasized the importance of digging into the factors that lead to burnout, such as "optimizing workflow challenges, reducing administrative burden, and formulating creative care models that emphasize care team coordination and person-centered care." This is in line with data from the 2020 State of Healthcare Communications report, which found roughly 31% of healthcare professionals believe having a platform that serves as a complete communication solution would improve hospital-wide communication at their organization. The good news is that 73% of provider executives in a recent PwC Health Research Institute report stated they are focusing on automating administrative tasks to improve the clinician experience.
Opportunity arising from crisis
Fortunately, the news isn't all bad. Organizations are now beginning to assess what they've learned and how to pivot their processes, infrastructure, and assumptions to improve care both during the later stages of the pandemic and beyond. For many, this means taking a closer look at their technology underpinnings to root out inefficiency and waste, optimizing every interaction they can. It's an opportunity to take a fresh look at the elements of the quadruple aim, the next evolution of the Institute for Healthcare Improvement's well-known triple aim framework. This paradigm focuses on optimizing performance through four core elements: improving the patient experience, improving health outcomes, reducing costs—and, many now argue, improving the clinician experience.
That's a tall order, but innovative technology will play a central role in leading hospitals and health systems out of the pandemic tunnel, giving them the tools necessary for widescale improvements over the long term. In fact, clinicians are hungry for change. They've long known that sharing information in a timely fashion is essential for top-notch care as well as achieving staff efficiency and cost savings. According to HIMSS Analytics, "Fifty-one percent of clinicians and clinical informaticists said improving patient safety was their top driver, 46% wanted faster response times between care team members, and 42% wanted faster response times to patients, all leading to better follow-up care." Today's clinical communication and collaboration (CC&C) platforms offer the means to achieve these goals, advancing the ease of interaction and streamlined workflows that can help all staff communicate better and focus on the job of patient care.
What you'll learn
We'll explore five benefits of a clinical communication platform and how an enterprise-wide technology approach can support, transform, and simplify healthcare delivery. This will include a close look at how the pandemic is shaping the future of healthcare and the opportunities the industry has for embracing the learning emerging from this unprecedented situation. Topics will include:
The technology takeaways of pandemic-driven digital transformation

The five benefits of a clinical communication platform

The results a clinical communication platform can generate
Rapid transformation
One notable change arising from the pandemic is the astronomical rise of telehealth. Once something of a novelty, many physicians and other practitioners now see 50 to 175 times the number of patients via telehealth visits according to a McKinsey & Company report. The new reality is putting a massive strain and administrative burden on IT teams and providers alike.
The Scottsdale Institute conducted a digital roundtable with CIOs from leading healthcare organizations who agree this "digital front door" is critical to get right, and that a positive patient experience is one of the keys to making it work long term. So, when it comes to trimming costs, digital health capabilities will need to operate with fewer resources. Organizations will need to leverage several tactics, including:
Consolidating multiple instances of technology

Optimizing existing applications

Relying on vendors to support implementations virtually, reducing in-house IT staff requirements
5 benefits of a platform
What is a clinical communication and collaboration (CC&C) platform?
A CC&C platform connects physicians, nurses, and other care team members with the people and hospital systems they rely on to provide patient care. It's a consolidated software application that optimizes how care teams interact and enhances clinical workflows.
As we explore the five ways a clinical communication platform can elevate the level of care at your organization, it's important to understand the functional capabilities of a best-in-class solution. First, having a central source of easily updated, accurate directory and on-call schedule information means these critical details can be built into every interaction. Second, secure messaging capabilities involving the entire care team, including nonclinical staff like transport and environmental services, speed collaboration across smartphones, pagers, hospital-issued devices, and desktop computers. This leverages existing tech investments and enables staff to use the best device for their roles.
Here are the top five benefits:
1. Improve routine care team communication
The Joint Commission's 2021 National Patient Safety Goal #2 is to improve the effectiveness of communication among caregivers. More specifically, NPSG.02.03.01 states that organizations need to report critical results of tests and diagnostic procedures on a timely basis. Simply put, how effectively care teams communicate every minute of the day directly impacts the quality of care they're able to deliver to their patients. These routine interactions span admit, discharge, and transfer (ADT) activities, patient handoffs, consult requests, transport scheduling, the sharing of test results, and more. Done well, they can make all the difference. Done poorly, the ongoing waste of time is frustrating, costly—and even deadly. One study found communication issues were a factor in 1,744 deaths over a four-year period and cost hospitals $1.7 billion.
Unfortunately, communication inefficiencies are common in healthcare with the rise of different mobile devices, inaccurate on-call schedules, and outdated or missing contact information, as well as disparate technologies that can't effectively share critical updates. All of these factors hinder swift, effective care communication. If a nurse can't contact a physician quickly to help a patient manage pain, or a physician can't find the right on-call specialist for a consult, everyone loses. Likewise, when critical test results are involved, the inability of radiologists and laboratorians to connect with the responsible physician means nurses waste time as go-betweens, which can delay care.

With a cloud-based clinical communication platform, you have a single solution connecting your entire care network and simplifying the process of finding people, groups, resources, and data. Having accurate contact and schedule information auto-populating in messages and being able to connect to the EHR for care updates is key to reducing administrative burden.
This means messaging for individuals and groups, rapid response notifications, ADT processes, and critical test result communication can occur without wasting time. For example, mobilizing consult order notifications means physicians receive these requests securely on their smartphones and can acknowledge the receipt and close the loop for faster patient evaluation.
2. Simplify alarm management
Patient floors are infamous for the constant din of buzzes and beeps that keeps patients awake and contributes to alarm fatigue for staff. Infusion pumps, ventilators, cardiac monitors, bed alerts, and nurse call systems are all designed to alert caregivers to changes in patient needs. But guess what? Research indicates these alerts can be false 72% to 99% of the time. That makes it hard for staff to distinguish a dangerous change in patient vitals from nuisance alarms.
Filtering these alarms and sending them directly to the assigned caregiver's mobile device is critical for both patient safety and staff efficiency. A clinical communication platform is highly effective in this area. It can connect to virtually any patient monitoring device and nurse call system to share alerts in meaningful ways with the right people. This includes integrating with the EHR for intelligent alert sharing as well.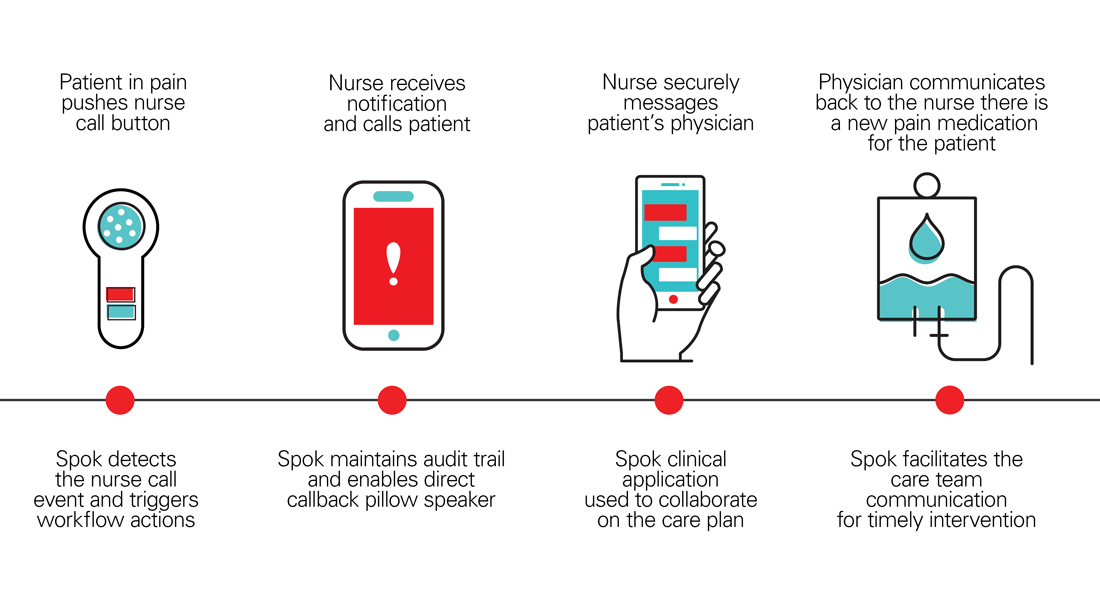 This automation streamlines workflows and elevates care. Now nurses and support staff can reduce walk time around the unit because patients can be connected directly to their assigned caregiver's device. In the case of nurse calls for assistance getting out of bed, this capability can reduce falls that not only result in patient harm but can also be costly to hospitals, which aren't reimbursed for the associated costs. It's estimated that 30 – 35% of patients who fall in a hospital sustain injuries. With an estimated cost of $14,056 per incident, you can see why it's essential to improve communication in this area.
3. Swiftly activate rapid response teams
When a patient care emergency occurs, every minute counts. These situations can include critical codes such as Code STEMI for heart attacks and Code Blue for cardiac or respiratory arrest, as well as sepsis. COVID prone positioning teams are now emerging too. But the process of notifying dozens or even hundreds of staff goes far beyond what can be accomplished with overhead announcements or calling trees.
Lock-step communication is essential to an effective rapid response team and ultimately the patient's health outcome. Refining every step of these workflows and creating well-documented, well-understood protocols requires the right technology to alert the appropriate providers and staff on their mobile devices and also stay on top of emerging requirements. A clinical communication platform provides the tools needed to keep everyone on task and accountable with secure group messaging capabilities, response and escalation tracking, and EHR integration that sends physicians actionable information that informs treatment. These situations can also involve the contact center, which often plays a central role in launching and monitoring the progress of codes from beginning to end.
5. Reduce IT infrastructure and extend the EHR
The vast internal IT infrastructures spanning today's hospitals and health systems are becoming difficult for internal teams to administer and protect. IT teams tasked with being heavily involved in supporting and maintaining new software implementations as well as the associated security policies may find themselves strapped for resources and even expertise. This is a key reason cloud-based systems are gaining traction.
It's time to alleviate the burden on IT teams, physicians, and nurses, and move to a clinical communication platform that can easily scale as the needs of your health system change. Cloud-native software helps ensure high availability and resiliency without draining IT resources. Plus, with continuous updates, you'll always have the most reliable, most secure technology to support your patients. With a consolidated platform, you can focus on interoperability and extend the role of the EHR in care team collaboration with actionable information in physician's messages. So instead of having disconnected applications for on-call scheduling, staff directories, secure messaging, and clinical alerting, you have a centralized approach. This means less IT infrastructure and hassle as well as the associated cost of managing too many disparate systems.
Results of these benefits
These benefits work in tandem to generate the kinds of results necessary for more sustainable, patient-centered healthcare.
Improved patient outcomes, safety, and satisfaction
The common goal of hospitals and health systems is delivering the best-possible patient care. Well-coordinated workflows rooted in smooth, secure communication are the foundation of better outcomes and satisfaction rates.
Looking at clinical workflows through the lens of efficiency often reveals opportunities for refinement, particularly when it comes to communication. Eliminating time wasted calling the wrong on-call provider or hunting for an updated phone number seems simple, but will pay major dividends for all involved, particularly patients.
Better clinician satisfaction and lower burnout
Eliminating longstanding inefficiencies and communication challenges goes a long way toward improving all aspects of care coordination and delivery. Lowering the administrative burden with EHR integration, fewer point systems, and highly effective secure messaging are essential.
Improving the clinician experience can reduce costly turnover, while consolidating point solutions decreases IT expenditures. All-around better care team collaboration improves bed turnover rates. Effective clinical alerting that enables nurses to reach patients faster can also minimize fall risks and the associated costs.
Summary
The healthcare environment is likely to remain unpredictable for some time as organizations struggle to treat the influx of COVID-19 patients. The months and years ahead will contain many uncertainties, but technology that takes a holistic and enterprise-wide approach to communication is an important step toward providing the support care teams require. The stakes have never been higher for patients, providers, and hospitals. A clinical communication platform provides the path forward for hospitals and health networks eager for a fresh approach to protecting patients as well as their financial futures.